There are over one hundred different types of beef cuts possible, coming in all shapes and sizes. At Brandt Beef, we want every single one of them on the menu and enjoyed. This is our "Head to Tail" initiative: a way for us to show respect for the animal and demonstrate a higher sense of responsibility. We encourage the use of each and every cut beef has to offer to create unique culinary experiences, which ultimately cuts down on waste and benefits our planet-and everyone on it.

Explore our beef cuts chart to learn more about some of the unique cuts you can find from Brandt Beef.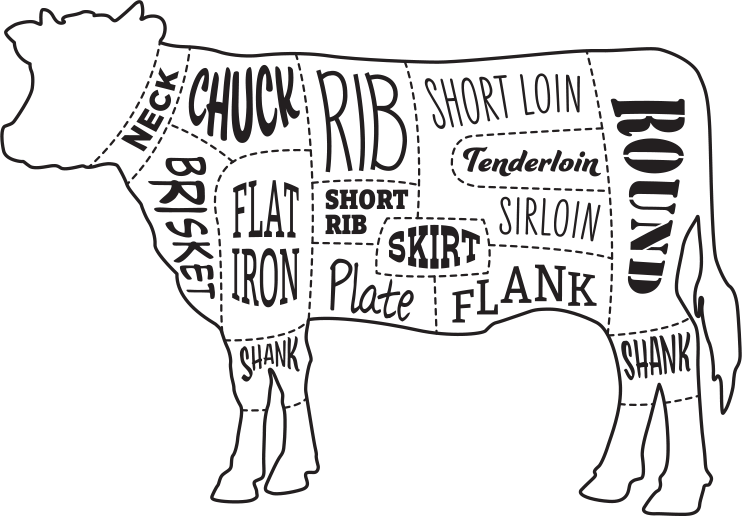 1
NECK
Brandt Beef Tongue
Braised and served with salsa verde and capers or with pickled baby beet salad
Brandt Beef Cheek Meat
Braised and used as filling for ravioli
Brandt Beef Sweetbreads
Poached, sliced thinly and Panko crusted in a salad or as a garnish for a sliced Brandt steak
---
2
CHUCK
Brandt Beef Chuck Tender
Cooked sous vide, pan seared and sliced served with Brandt oxtail "marmalade"
Brandt Beef Chuck Flap Meat
Asian glazed served with wok charred vegetables
Brandt Beef Chuck Short Rib
Traditionally braised served with "natural jus" and vegetable puree. Miso glazed as an amuse
Brandt Beef Ground Chuck
As an appetizer or bar menu "slider" with signature toppings
---
3
BRISKET
Brandt Beef Brisket
Dry rubbed & slow cooked for barbecue sandwiches or as a carving item
---
4
FLAT IRON
Brandt Beef Teres Major
Pan seared served over brussels sprout and andouille hash with bourbon - peppercorn sauce
Brandt Beef Flat Iron
Herb crusted with slow cooked broccoli bleu cheese and crispy shallots
---
5
RIB
Brandt Beef Meaty Back Ribs
Slow roasted with barbecue dry rub, chipotle barbecue sauce and warm potato salad
Brandt Beef Lifter Meat
Teriyaki glazed with sticky rice and bok choy
---
6
SHORT RIB
Brandt Beef Short Rib
Grilled steaks
---
7
SHORT LOIN & SIRLOIN
Brandt Beef Loin Tails
Pan seared with soffrito rice and mashed plantains
Brandt Beef Center-Cut Top Sirloin
Bacon wrapped & bleu cheese crusted with truffled french fries
Brandt Beef Cullote Steak
Seared, sliced and served au poivre with potato gratin
Brandt Beef Flap Meat
Grilled "Bavette" steaks served in classic Steak Frites
Brandt Beef Tri Tip
Marinated with olive oil, garlic & fresh herbs. Slow roasted.
---
8
TENDERLOIN
Brandt Beef Tenderloin Tails
Stir fried with vegetables or grilled on brochettes
---
9
SKIRT
Brandt Beef Outside Skirt
Flash grilled and served with chimichuri sauce. Great for steak sandwiches as well
Brandt Beef Inside Skirt
Marinated and grilled for fajitas, salads or sandwiches
Brandt Beef Tripe w/ Honeycomb
Perfect for ethnic dishes
Brandt Beef Kidneys
Traditional preparations as well as braised with baby beets and horseradish
Brandt Beef Hearts
Braised with tomato sugo and cippolini onions
---
10
PLATE
Brandt Beef Boneless Navel
Perfect for signature pastrami or housemade "jerky"
---
11
FLANK
Brandt Beef Flank Steak
Lightly marinated, grilled and served in sandwiches. Great with a carne asada rub
---
12
ROUND
Brandt Beef Top Round
Seasoned and roasted whole for a signature roast beef
Brandt Beef Bottom Round Flat
Perfect for braising, stew meat or "Ropa Viejo" with citrus glazed yucca
Brandt Beef Eye Round
Herb rubbed, seared & sliced thin for carpaccio
Brandt Beef Peeled Knuckle
Cubed, marinated and used for brochettes
Brandt Beef Marrow Bones
Great Broiled and served with parsley salad and toast or as a garnish for Brandt steaks
Brandt Beef Mixed Bones
Excellent for all soup & stock applications. Young animals yield great flavor & extraction
Brandt Beef Oxtail
Braised for oxtail marmalade or for ravioli filling
---
13
FORE SHANKS
Brandt Beef Fore Shanks
Cooked in a tagine with couscous and appropriate garnishes
---
14
HIND SHANKS
Brandt Beef Hind Shanks
Braised or sous vide with aromatics. Shredded and served with red wine risotto